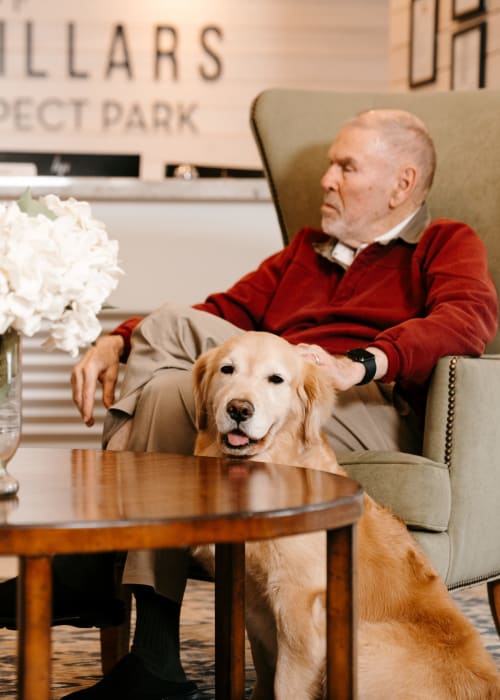 —


OVER 100 YEARS OF CARE

Our mission is simple: To provide a community that seniors are proud to call home. Oppidan Investment Company, a national property development firm, and Ebenezer Management Services, Minnesota's largest senior living operator, partnered back in 2014 to develop outstanding senior living communities in Minnesota.

For 110 years and counting, Ebenezer has provided excellent care services to seniors across the state. Their core values have served as pillars to our success and guiding mission: dignity, integrity, service, compassion, and innovation. These values inspired the name of The Pillars of Prospect Park, emboldening our commitment to continuous growth and innovation. We're serious about our mission while simultaneously prioritizing fun, leisure, and soaking up the joys of each and every day. Come meet us and see what we're all about.
—


An Inclusive & Welcoming Home for All

We champion inclusion and honor diversity. At The Pillars of Prospect Park, we embrace the customs of different cultures to create an inclusive environment for all. Welcoming residents of all backgrounds, we celebrate diversity in race, religion, gender identity, and orientation. Some LGBTQ+ seniors feel forced to hide their true identity when moving into senior housing after living as their authentic selves for years from fear of experiencing discrimination. Here, we celebrate you and make sure you are free to be you! From Ramadan and Christmas to Black History Month and International Women's Day, we celebrate all of the holidays and acknowledge them to learn about our community members.
—


The Pillars Peace Project

Each month, The Pillars Peace Project selects a different country to be highlighted in various activities. Oftentimes, it's the home country of a resident or staff member in the building. Throughout the ensuing weeks, we dive deep into learning about the country's culture and customs. To conclude the month, we host a community dinner where everyone gets to enjoy local cuisine. It's one of our most well-loved events – speaking volumes about the natural curiosity our residents have for this diverse world of ours.
—


COMMITTED TO CONTINUOUS LEARNING

Our highly-trained team leads with empathy and open mindedness. Committed to curiosity and development, we ask the right questions and get to know residents on a personal level. As proponents of lifetime learning, we maintain close ties with the University of Minnesota Alumni Association as their official senior living community. Our close-knit partnerships with nearby educational institutions and other esteemed organizations create an educational environment that benefits everyone involved. Stimulate your mind; expand your community at The Pillars of Prospect Park in Minneapolis, Minnesota.